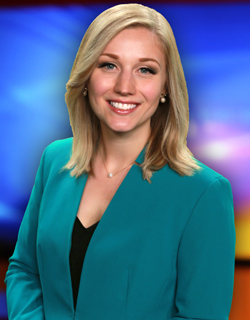 Taylor Winkel is a reporter for Channel 5 News. She anchors Channel 5 News This Weekend.
Taylor was born and raised in Seattle, Washington. Growing up, she spent much of her time outdoors
Taylor interned and worked at KING-TV in Seattle during college. She learned to keep up with and cover an array of stories from breaking news to Seattle politics, as well as, the sights and sounds of protests and rallies throughout the city. She spent hours shadowing award winning journalists and storytellers while in college. After graduating from the University of Washington, she began her career in 2015 as an anchor, reporter and photographer for NBC Montana in Kalispell and Missoula, Montana.
After falling in love with the weather, landscape and authentic people of the Valley, Taylor joined the Channel 5 News team as a weekend anchor, with weekday reporting duties in April if 2017. So far Taylor has had the opportunity to cover stories in smaller towns across the Rio Grande Valley, as well as, look into the impacts national politics and natural disasters have in South Texas as a whole. Her favorite part of the job will always be meeting new people from different backgrounds every day and learning about their lives and stories.
When she's not covering the news, Taylor enjoys exploring new places, discovering new music, fitness and cooking.
Taylor's passion will always be telling stories about people who are impacted the most. She welcomes anyone to send her story ideas and enjoys hearing from viewers via Facebook and Twitter. She can be reached by email at twinkel@krgv.com.