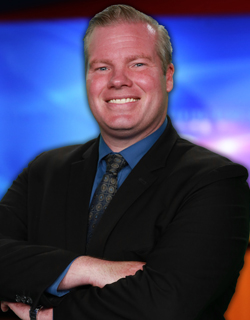 Frank McCaffrey
I am originally from the northeast, but moved my family down to South Texas after living through one too many traffic jams and snowstorms. I also wanted to cover the many issues of interest in The Valley while learning about them.
My last job was in Upstate New York where I was the managing editor and lead anchor at WICZ-TV in Binghamton. During that time, I covered many stories on the heroin/opioid epidemic and New York's politicians falling into trouble with the law.
Prior to that, I spent years in Washington, DC both in journalism and in politics. This taught me the ins and outs of our government. It also put me in a position where I am regularly asked if I watch "House of Cards." And, no, I have not seen it.
I grew up in the Washington, DC metropolitan area. Both of my parents pushed the importance of education on me. That's why I attended Loyola University in Baltimore and obtained a BA in communications/journalism. I also picked up a Master's from Johns Hopkins in government/political communications.
My parents raised me to take on any challenge in my way. That's what has helped me tackle many of the challenging stories here in The Valley. During my time here, I have covered stories on consumers who need someone to help them with one of their grievances. I have reported on the issue of immigration during a period of transition between two presidential administrations. I have also uncovered details on the economies in some of the local cities. The whole experience has introduced me to many interesting people who have taught me more than I imagined.
When I am not at work, I enjoy spending my free time with my wife Liss and young son Louis.
You can reach me at frank@krgv.com.