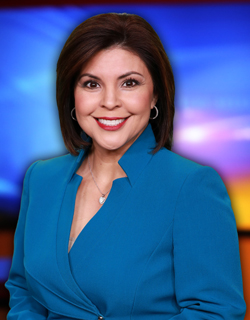 Dina Herrera-Garza
Dina is a Valley native, born and raised in Edinburg, Texas. She graduated from Edinburg High School in 1991.
She earned a bachelor's degree in mass communications from Southwest Texas State University, graduating cum laude.
Dina worked as a reporter covering news in Cameron and Hidalgo counties before joining the CHANNEL 5 NEWS This Morning team in 2002.
"I take pride in bringing news that's important to our viewers, news that affects their lives," she says. "It's an honor to be part of the Valley's #1 rated morning newscast."
Dina covered education for several years and earned a State Silver Apple Award from the Texas Classroom Teachers Association in 2003.
Dina is also very proud to be a part of the 2007 Emmy Award winning morning news team.
"It's thrilling and it's an honor everyone worked hard to achieve," she says.
In 2007, Dina was named anchor of CHANNEL 5 NEWS at Noon.
Dina and her husband, Neil Garza, have made their home in Edinburg and are the proud parents of Noelle Diane and Noah Daniel.
She says, "Family is very important to me... Every chance I get, I spend with my kids and those I love."