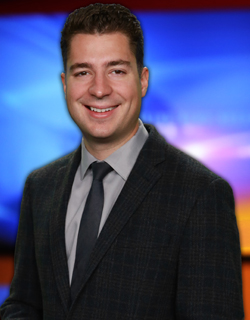 Christian Von Preysing
I grew up 2,000 miles away. I spoke English and Spanish at home. I like to ask a lot of questions.
I started reporting in Laredo at KGNS-TV. Those two years were great. The border is such a neat part of the country. I didn't get enough, so now I'm here.
I studied at the University of Wisconsin-Madison. My degree is from the School of Journalism and Mass Communication with another major in anthropology and a certificate in computer science.
People ask me about my roots. My hometown is Bethlehem, Pennsylvania. My mom is from Ecuador. My dad's family immigrated from Ireland several generations ago. My mom's father is German. That's where I get the last name I choose to use on air.
Reporting on the border is a whirlwind. I talked to people paddling illegally across the Rio Grande. I walked into fields of marijuana. I stood inches away from unrestrained rattlesnakes. I held a microphone to Donald Trump on one of his first campaign stops to South Texas.
My goal is to bring you ideas and stories you've never considered, not what you know already.
When I'm not working I'm outside, looking for the next great picture. I love South Texas wildlife!
Email me at christian@krgv.com
See my page at www.facebook.com/KRGVChristian/